Ornaments with Elsa & Friends
See (below) if your area is in our delivery area between December 19th and December 23rd!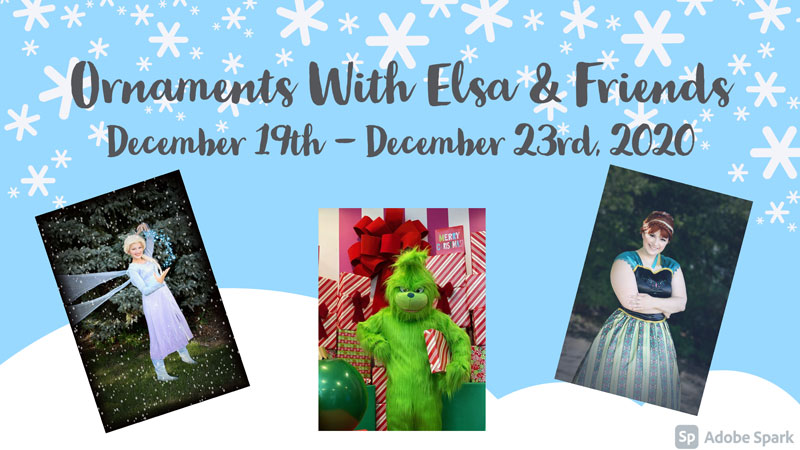 Schedule a visit from the Ice Queen, her sister or the Grinch pop by your home (socially distanced of course) and hand deliver a special holiday ornament and grab a photo!
Visits are 10-15 min, and are socially distanced (and wearing masks if still under Tier 3 mitigation).

Visits include 1 Christmas ornament (additional can be purchased for $10 each)

Visits are typically outside the home, or in a front entry that is spaced for several people
All bookings are on a first come first served basis
TO BOOK:
Email Adrianne at adrianne@princessfairytaleparties.com
Please submit your address, and include the city/town/village you live in.
Please reference our calendar for who will be in your area on what days.
Once we have booked the day, we will assign a window of 60 to 90 min to expect your character. Character will call upon arrival. You should expect your window by December 17th 2020.
DEADLINE TO BOOK: December 17th (if slots are still available)
Saturday, Dec 19th
Elsa
Schaumburg,
Hoffman Estates,
Barrington
Saturday, Dec 19th
Elsa
Carol Stream,
Wheaton,
Hanover Park,
Bloomingdale
Saturday, Dec 19th
Elsa
Naperville,
Aurora
Saturday, Dec 19th
Anna
Arlington Heights,
Wheeling,
MT Prospect
Saturday, Dec 19th
Grinch
Downers Grove,
Wheaton
Sunday Dec 20th
Elsa
Carol Stream,
Wheaton,
Hanover,
Bloomingdale
Sunday Dec 20th
Elsa
Schaumburg,
Hoffman Estates,
Barrington
Sunday Dec 20th
Elsa
Carol Stream,
Wheaton,
Hanover Park,
Bloomingdale
Sunday, Dec 20th
Anna
Naperville,
Aurora
Sunday, Dec 20th
Grinch
West Chicago,
Bartlett,
St. Charles,
Batavia
Monday Dec 21st
Elsa
Naperville,
Aurora
Monday Dec 21st
Elsa
Naperville,
Aurora
Monday Dec 21st
Elsa
Schaumburg,
Hoffman Estates,
Barrington
Monday Dec 21st
Anna
Carol Stream,
Wheaton,
Hanover Park,
Bloomingdale
Monday Dec 21st
Grinch
NO TIME
SLOTS OPEN
Tuesday Dec 22nd
Elsa
West Chicago,
Bartlett,
St Charles,
Batavia
Tuesday Dec 22nd
Elsa
Arlington Heights,
Wheeling,
MT Prospect
Tuesday Dec 22nd
Elsa
Addison,
Lombard,
Glen Ellyn
Tuesday Dec 22nd
Anna
Schaumburg,
Hoffman Estates,
Barrington
Tuesday, Dec 22nd
Grinch
Naperville,
Aurora
Wednesday Dec 23rd
Elsa
Addison,
Lombard,
Glen Ellyn
Wednesday Dec 23rd
Elsa
West Chicago,
Bartlett,
St Charles,
Batavia
Wednesday Dec 23rd
Elsa
West Chicago,
Bartlett,
St Charles,
Batavia
Wednesday Dec 23rd
Anna
West Chicago,
Bartlett,
St Charles,
Batavia
Wednesday Dec 23rd
Grinch
NO TIME
SLOTS OPEN